Commercial Truck Driving Instructor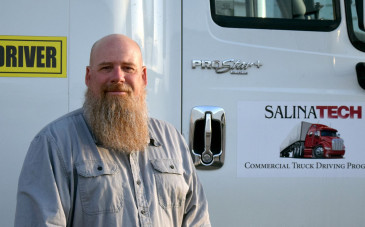 "I became interested in the military in high school after a visit from a recruiter. I understood at the time that higher education wasn't going to be the best option for me, but that I needed job skills that would set me up for a career. 
In the Marine Corps and later in the Army, I was trained to drive heavy-wheeled vehicles. I had good mentors on the job and began to see the value in protecting and enhancing a trade through excellent training. As a result, I learned to teach my military specialty when the opportunity arose. I took the Army basic instructor course, small group instructor training course, foundation training developer course and the training development capability course.
The training I received taught me the skills to teach in the Army, and then in the civilian sector. Currently, I'm the lead instructor for the commercial truck driving program at Salina Area Technical College. I teach, aid in job placement, develop courses to include the latest changes in the trucking industry and maintain an advisory board with industry leaders. I enjoy sharing my experience with students and seeing them succeed in the industry — it's rewarding to have former students contact me to say they've achieved personal goals because of their training!
Another great benefit of my current position is Salina Tech's tuition reimbursement program, which offers nine free credit hours of instruction to employees per semester. Because of that opportunity, I'll be receiving an associate degree in applied sciences in technical studies. I was able to take my military education and experience and convert it to educational credits at Salina Tech, which gave me an incredible start on the degree. 
If you're interested in a career like mine, I recommend taking a public speaking class. Thanks to this class in high school, I'm comfortable speaking to groups and always have been. Also, be patient and understand the different ways people learn. Don't forget where you came from, and remember you are always teaching someone something, regardless of the setting."
---