Automotive Technician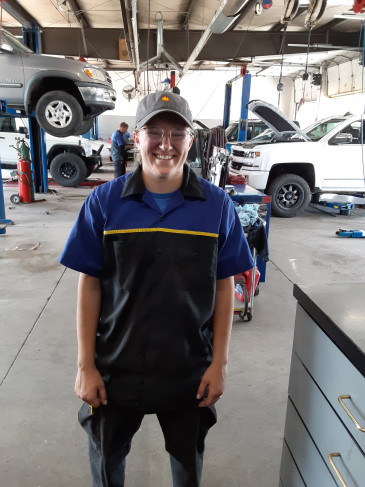 "I've always been intrigued by cars, but I didn't know how intrigued until my freshman year at Manhattan High School, when I took Introduction to Industrial Technology. Auto shop was my favorite segment of the class. I loved learning how engines work, and every day we'd learn about a new problem and how to fix it.
I started working at Burnett Automotive in Manhattan the summer after my junior year, and I took advantage of their on-the-job training. As a senior, I was able to do a work-based internship, shadowing the technicians and learning firsthand what the job involves. Now, as a general lube technician, I perform services such as oil changes, battery replacement, and tire repair and rotation. I've learned so much, and I plan to continue working here while I study automotive technology at Manhattan Area Technical College.
The best part about this job is seeing how all the different parts come together to make a car work.  When you find the issue and you're able to fix it, it gives you a real sense of accomplishment. I want work in this industry well into the future, and someday become a certified diesel technician — working on big trucks all day just sounds like a lot of fun!
If you're interested in becoming an automotive technician, I recommend taking all the auto classes your high school has to offer. I was able to take Introduction to Automotive Technology, Electrical 1, Brakes 1, and Steering and Suspension, all of which helped prepare me for my internship. Ask lots of questions and take lots of notes, even if you think you know all there is to know about a topic. Never pretend to understand something when you don't. In industries such as auto service, you learn by doing, and someone is always willing to show you the way."
---