Dog Trainer and President, Bug Hounds LLC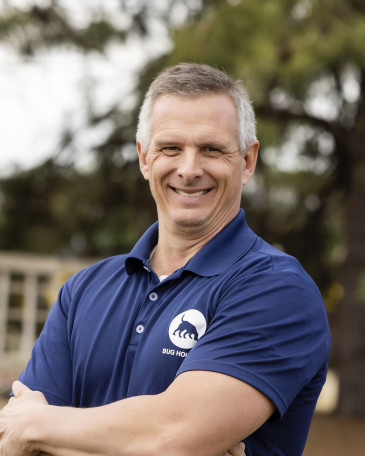 After I realized becoming a professional baseball player just wasn't in the cards, I considered being a teacher because I love helping others. But my career path took a few turns before I found myself educating people — and it turned out not to be in a classroom.
After high school, I attended technical college and began working in the heating and air conditioning industry. This was a great way to start earning a paycheck quickly, and I was eventually hired as a facilities manager for a large library. In this role, I made sure the building was up to snuff and monitored things like the electrical system, plumbing, etc. One day, I needed to hire a pest control company to search the building for bed bugs, and that experience sparked a career pivot.
The pest control company came in with dogs who were trained to find bed bugs and show them to the humans. I've always loved animals and grew up training hunting dogs, so I thought, "I could do that!"
For four years, I continued to work full time while learning how to train dogs to detect pests and figuring out how to start and build a business. I took courses about dog training, bought my first detection dog and earned a certification. I learned the proper techniques and started training additional dogs to spot and identify pests. Then, in January 2022, I was able to be fully self-employed without working any other jobs. I'd achieved my goal of owning my own business and working for myself.
As a dog trainer and president of my company, Bug Hounds LLC, I still train dogs, plus I deal with the ins and outs of running a business including tasks like accounting, writing contracts and more. I never thought I'd grow up to educate people about bed bugs, but it's a really cool way to incorporate my lifelong love for helping others. I take great pride in protecting people's homes and businesses and teaching them to recognize the signs of bed bugs and learn other best practices. Working for myself also means I get to set my own hours, which lets me spend more quality time with my family.
In today's constantly changing work environment, self-employment is becoming an increasingly popular option. To prepare for this possibility, take courses that teach you how to manage your finances, market yourself and practice effective communication. It's also important to seek out opportunities to job shadow and intern so you can learn from experienced mentors.
No matter what industry you're interested in, be open to exploring creative ways to follow your interests, skills and passions. One way to do this is by taking a variety of classes, even in areas that may not be your favorite subjects. You never know what might spark your passion or how it might be of use later!
---