Laborer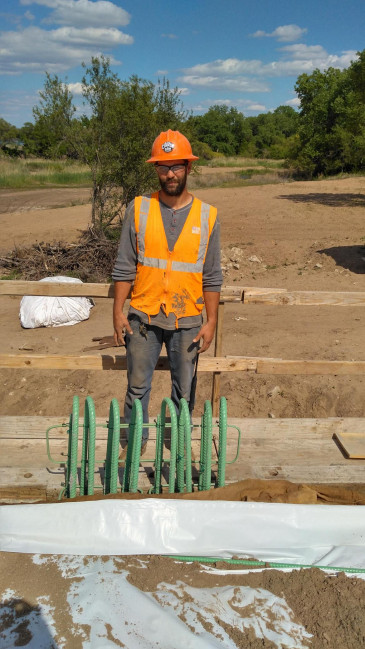 "When I first set out for college, I was planning to pursue a career in accounting. But after attending Dodge City Community College for two years, then transferring to Kansas State University, I ended up earning my bachelor's in economics.
I worked in the banking industry for a number of years as a bank manager. I started to realize, though, that I wanted something different for a career — I was tired of being in management, and I wanted a job with consistent hours where I could be more active.
I started researching jobs online that paid well, offered good benefits and had a set schedule. That's how I found A.M. Cohron & Son, Inc. Since they're a construction company, I knew I'd have the added bonus of working outdoors and getting a good workout, both huge pluses in my book.
My friends all thought it was cool that I'd be doing something I enjoyed and would get to work in construction. The only concern anyone had was about the safety of working in the elements, but A.M. Cohron & Son, Inc. puts a huge emphasis on safety and best practices, which put everyone at ease.
Working here has been a perfect fit. The company gave me all the training I needed to be successful, and I'm always challenged to think for myself with the guidance of the foreman or the supervisor on the job site.
My current job is as a laborer, where I do anything from setting forms to finishing concrete to stripping lumber. I'm also forklift certified through the company, so I move materials around a job site as needed.
It's so nice to be outside and to get a solid workout most days. I feel like I'm really taking care of my health and body. I enjoy traveling for different projects, too, and even own a trailer so I can easily move to new jobs with the company. It's awesome to see new parts of Kansas, Oklahoma and Nebraska while meeting people along the way.
Eventually I hope to work my way up through the company to a supervisory position. That will help me continue to set myself up for long-term financial success and retirement.
If you're interested in this career field, I'd try to learn to think outside of the box as much as possible and gain practical experience wherever you can! For example, working in the theater department can be a great way for a high school student to gain experience with tools and building.
Finding new ways to solve problems is always a good skill to have. Accountability is another huge one. Be confident in the work you do, but don't be afraid to admit when you make a mistake — tell someone about it, learn how to fix it, then remember the lesson moving forward."
---