Bank Operations Specialist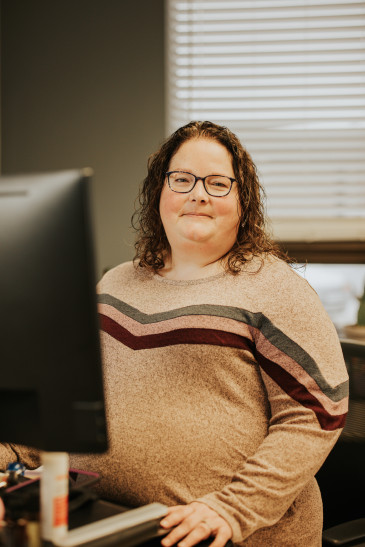 "I really enjoy young kids, so growing up I always thought I'd become a teacher. I started down that path in college, but soon discovered it wasn't for me. While in college, I started working at Walmart, which gave me some great experience with handling cash and working with the public.
Around this same time, I decided to take a break from schooling to figure out what I wanted to do. I learned from friends that Bank of the Flint Hills was a great place to work. I applied to work as a teller, and soon found myself learning the banking business from the ground up at the main bank in downtown Wamego.
The bank taught me all of the policies and procedures I needed to know to be a teller, and how to use all of the machines. Fifteen years later, I'm still at the bank, and I've been promoted to operations specialist. I handle back-end processing, which means I run daily reports and process all the returns and errors found in accounts. I'm in charge of investigating errors and working with the customer to resolve issues or determine if the customer has been the victim of fraud.
My co-workers are truly a bank family. I love that part, and I love being able to help customers solve issues they find in their accounts. Someday, I'd like to be made an officer of the bank. This would involve more responsibility and greater knowledge of different aspects of what we do. The bank has provided me with a lot of professional development training to be in compliance with what needs to be done to meet banking regulations, to provide good customer service and to just be an overall better person and employee. There's always more to learn.
Had I known in high school I was going into banking, I would have taken more business classes. I wish I'd learned more about accounting to understand how all the different pieces work together. If this career path seems interesting to you, our bank hires tellers as young as 16. Working as a teller while you're still in high school is a great way to try out this field. Most of us started as a teller and worked our way up, learning all the processes as we advanced in this profession."
---