Project Administrator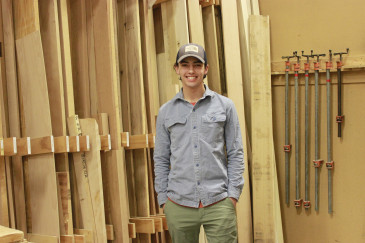 "I graduated early from Manhattan High School and started working at Timberline Cabinetry the following day. I have had a passion for creating things and woodworking ever since my freshman year when I built a bed with my dad. In high school, I took woodworking and engineering design courses that helped prepare me for this job and further grow my passion for woodworking. During my last few months of high school, I found myself spending most of my days in the woodshop at school, so working at Timberline and doing what I love daily just made sense.   
I decided to graduate early because I had reached the point where I had all of my high school coursework done, and before I started college I wanted to go out and do something stimulating and productive with my time. I decided working full-time (and saving money!) for six to eight months before college would be more advantageous for me than sitting in a classroom and waiting.
Working at a small company like Timberline gives me the chance to continually learn new skills that may transfer someday to whatever challenges I may face. My job title is Project Administrator, which ultimately involves a lot of clerical assignments working alongside estimators and project managers. When those tasks are done, I'm also given the opportunity to do a wide variety of tasks and gain new experiences. For example, the company needed a new online catalog, so I assembled a miniature photo studio in the paint booth, photographed products and edited the images.
My work philosophy is to make yourself valuable. Look at what needs to be done, is not being done, and do it. Make yourself an asset. This means when I finish my office work, I also get to spend time working in the shop, helping along the assembly process, stimulating my interests and expanding my skillset.
For college I plan on attending the University of Oregon where I will major in political science on a pre-law track. In the meantime, I am enjoying the opportunity to gain practical experience through a flexible job that presents different hurdles daily. I perceive this as a steppingstone, a starting point, an opportunity. My advice for others is if you do not know what you want to do, choose a field that gives you flexibility. Trust your abilities and what you know; however, always make an effort to keep learning."
—  Ben Whitten, project administrator, Timberline Cabinetry
---