Heavy Equipment Operator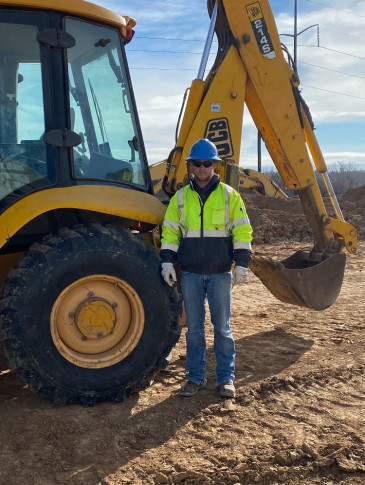 "My dad's an electrician. Growing up in Hays, I always wanted to be just like him. He'd do side work for friends, and I would tag along, get some experience watching and helping him. I liked doing that. But as I got into high school, I started to learn about other possibilities through career days. One day someone came in and talked about heavy equipment and the construction side of things, and I thought it looked pretty fun to run the big equipment and reshape the earth.
I enrolled in the nine-month heavy equipment certificate program at NCK Tech in Beloit the fall after I graduated high school. Near the end of the program, Stan Hambright from Bayer Construction in Manhattan came to talk to our class, and he hired me basically on the spot.
Today, I'm a heavy equipment operator at Bayer, which means I run an excavator or wheel loader. I'm on a utility crew, so for the most part we build water lines, sanitary sewer lines and storm sewers for new developments. I also get down in the ditch and help out whenever that's needed. There's a lot of variety. Sometimes I put down soil at the end of a project, to get things finished up and looking nice. I've also gotten to tear down houses, too. That's kind of fun — to be able to destroy something and not get in trouble for it!
My advice to students is that you really don't know if you're going to like something until you try it. Show up to work on time, be helpful to everyone, and always be willing to learn new things. Don't have a closed mind and think you know everything. Just be open to learning."
---