Product Support Specialist (Seasonal)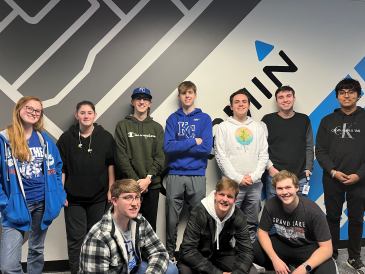 I've always been aware of Garmin products around me, like their navigation systems and, of course, their facilities around town. But it never dawned on me that I could work at a company like Garmin until I saw an opportunity through my high school to apply for their summer internship program. That email sparked my interest and led me to where I am today.
Right now, I'm a product support specialist on the seasonal team. The seasonal team is made up of people who are just starting out with the company and still learning about all the products and processes. Part of my job is to help with software updates and mapping out upcoming updates for Garmin's marine products.
The training for this position required a lot of concentration, but I wouldn't say it was overly stressful. When I first started out, I was expecting a pretty stern workplace and was a little nervous about expectations. But I couldn't have been more wrong! You do need to be respectful of the people who are training you — they're taking time out of their day to help you learn new things and get better at your job, so it's important to be appreciative — but our supervisors always make sure we understand our assignments and are great about answering questions at any time. Overall, it's a healthy place to learn. In fact, the environment at Garmin is one of my favorite parts of the job. The people here are incredible, easy to talk to and with a great, supportive energy.
If you want to get started down a path like mine, getting your hands dirty can be a good place to start. Also, take advantage of all opportunities that come your way. There's always a small business that would love to have an extra set of hands, so just start looking around. One of my first jobs was working for a friend's lawn company. And while it's not directly related to the hands-on work I'm doing now, it helped me learn how to communicate, which is important in any field.
As for my career goals, I'm planning to take classes at my local community college to improve my work. And, ultimately, I'd like to grow my career with Garmin as the company itself keeps growing!
---