Middle Grade Math and Technology Teacher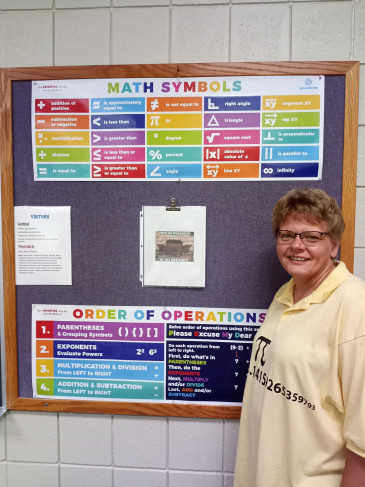 "I've always loved school. I love fall. There is no better smell in the world than the smell of new school supplies. This fall, I'm finally fulfilling my lifelong dream of being a teacher for the first time, thirty years after I graduated high school. I'll be teaching middle school math and technology at St. Andrews Catholic School in Independence, Kansas.
Growing up, my family life was atrocious. My dad was abusive. When I graduated high school in 1991, my goal was to become a teacher, but my dad refused to pay for me to go to college. I decided to go anyway, so I put myself through Wichita State University while working full time. I began to realize about a year in that due to my homelife, I had some issues I needed to deal with before I'd be a good role model for kids. I completed three and a half years of college, but eventually dropped out just 12 hours short of my bachelor's degree. I regret now giving up when I was that close, but I just ran out of money and energy.
I moved back to my hometown of Independence, Kansas, and began working at a bank. I also got hired to do taxes through H&R Block, which put me through a semester-long course. Some people think doing taxes would be boring, but I loved it. I'm still doing taxes now 24 years later, and I have to do 18 hours of continuing education each year to keep up with the changes in the tax codes.
Eventually, I met my husband and got engaged. The day before my wedding in 1997, on my way to work, a guy hit me head on — and my life was forever changed. The other driver was killed, and I was on life support for five days. I was a total mess. I was off work for almost a year, and it took that long for me to walk again. At that point, there were things I physically couldn't do for eight hours a day, so I decided to go back to school to become an accountant, rather than pursue teaching.
I took 15 hours at Independence Community College, transferred them to Wichita State to earn a bachelor's of general studies in math, then enrolled in the University of Phoenix to study accounting. I completed my second bachelor's degree in 2004 — while raising two kids and working full time.
I had several jobs during this time, while also doing taxes during tax season, but I never forgot my dream. Sometimes things just don't work out. My son has muscular dystrophy and can no longer walk, so that took up extra time and effort as well. Finally, in 2019, I learned about Pittsburg State University's Transition to Teaching program for people who already have a bachelor's degree but want to teach. I decided it was finally time. I started back to school full-time in June of 2019 while still working, and I finished my degree and graduated in the spring of 2021 with my master of arts degree in education.
My kids — who are now 20 and 17 — have always seen me studying at home. They've been very encouraging through all this and have told me I'll be a great teacher — as long as I'm not their teacher. Honestly, looking back I don't think I could have been a classroom teacher when I was 22 or 23. As much as I hate to say it, now that I'm older, I've matured and learned a lot of things you can't learn in a textbook. Life experiences are very helpful, and I'm eager to put them to work this fall when I'm finally in my own classroom."
---