Owner and Mortician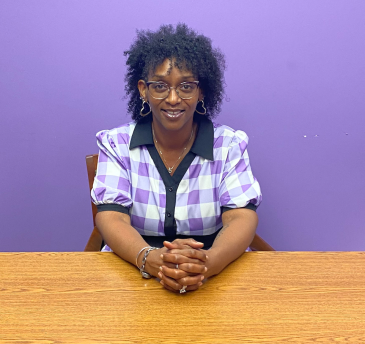 When Harriet Tubman led escaped slaves to freedom, she followed the North Star to guide their way through the dark. Likewise, when I'm working with families who are grieving, they need someone with compassion and professionalism to guide them through that tough time. That's why we chose to name our funeral home Northern Star Mortuary. We want to be people's North Star in a time of need.
My husband Scottie and I own two funeral homes, one in Kansas City, Kansas, and one in Wichita. We also own a trucking company. He helps me out in the business side of our operations, but I'm the licensed professional who does the embalming and funeral directing.
I'm a science geek. I always have been. I love the scientific part of my job – the embalming process and putting bodies back together again, especially after an autopsy. On the people side of what I do, I love working with the families and the rapport you build when you prepare their loved one's service. I coordinate with the flower shops, cemeteries, and families to put together each service just the way the family wants.  
In high school, I took every science class I could. I really wanted to understand how the human body worked. One day I very clearly remember being in my psychology class, taking about careers, and it struck me that I needed to figure out what I wanted to do with my life. I prayed to the higher power, and I was given a vision of ownership and funeral service.
From that day, I began working toward that vision. I eventually got an associate degree in mortuary science from Kansas City Kansas Community College. But an important part of anyone's training in this field comes from practical experience working in the industry. I worked for a prestigious funeral home from 1998 to 2006, and during that time I learned how to operate this kind of business. Then, I left to open Northern Star. I had a goal of owning my own mortuary by 32 years of age, and I made it 40 days before my birthday.
We need more people entering the funeral business, so I take my responsibility to the future of my profession very seriously. I usually have one or two interns each semester, and I put my interns to work taking care of bodies and families from day one. I tell them that if they've never had the experience of touching a dead body before, how in the world can they know this is really what they want to do? Some young people don't realize what it really takes to help families in grief day in and day out.
The hardest part of what I do is helping families through the death of babies and children. That can be very hard. Another downside is that we're on call 24/7.
My long-term career goal is to become a medical examiner and to be able to do autopsies. It will take take 12 to 14 years of schooling to become a medical doctor. As a first step, I'm currently working on a bachelor's degree in business administration. My grown daughters aren't interested in taking over Northern Star, but I plan to put my two grandsons – who are both babies today — in suits as soon as they are old enough to learn this business from the ground up. I hope one of them will take over what we've built someday.
This isn't something people decide they want to do every day. But if you research and meditate on it, and decide this is a good path for you, then go for it. It can be a very rewarding choice.
---