Heather Brewer, MBA, PTA, ATC
Manager of Outpatient Physical, Occupational and Speech Therapy Services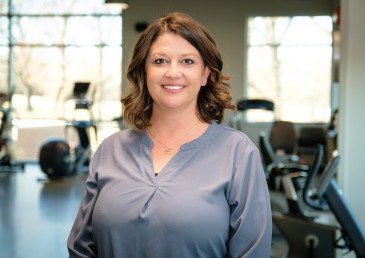 "When I was in high school, I knew I wanted to work with people and I wanted to work in the medical profession, but I wasn't exactly sure what I wanted to do. Maybe it was because I enjoyed my science classes, or that I played sports, had injuries, and watched others recover from injuries. I honestly can't remember exactly what triggered me to go this direction, but as I've gotten older, I've realized helping people makes me feel energized and gives me a sense of purpose.
After high school, I earned an associate degree at Washburn University in the Physical Therapy Assistant (PTA) program, and I began working as a PTA at Stormont. Then, I began working on my degree in exercise physiology with an emphasis in athletic training. After that, I worked for a private practice physical therapy clinic, where I got the chance to try out many different jobs including marketing, community relations, sales and registration, and I collaborated with the business department. Each opportunity helped me better understand what goes into caring for patients.
Early in my career, I lacked confidence, but over the years I've been blessed with many leaders and co-workers who believed in me and challenged me to grow. About six years ago, I came back to Stormont Vail, this time as the manager of Outpatient Physical, Occupational and Speech Services. Through Stormont's employee tuition reimbursement program, I recently completed my MBA in health administration. The program reimbursed me for each class I successfully completed, in exchange for a commitment to work at Stormont for a particular time frame. If I were to leave, I would have to pay Stormont Vail back, but I don't see myself leaving any time soon! Without this benefit, I'm not sure I would have ever gone back to school to earn my master's.  
Being in management now allows me to help others on an even larger scale. A few years ago, I would have said managing this department would have been my career goal. However, my ultimate goal is to keep looking for new opportunities to learn. I don't want to stop growing and helping others." 
---