Public Information Officer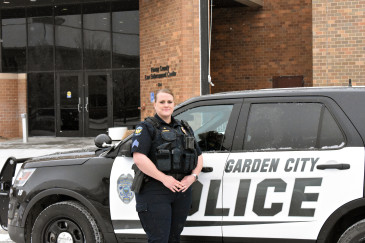 "I've always wanted to be in public service. I've always been driven to understand the law and the judicial system, and I have always gravitated to jobs where I help others.
After high school, I enrolled at the University of Nebraska and earned a bachelor of science degree in comprehensive criminal justice. I first took interest in the world of law enforcement after taking a class on sex crimes that focused on the criminology of sex offenders. I found myself wanting to understand why people commit crimes, and I wanted justice for victims. I wanted to be the one to investigate those crimes, so I decided to become a police officer. I was hired with the Garden City Police Department in 2007, and was sent to the Kansas Law Enforcement Training Center in Hutchinson for my basic academy training.
One thing I enjoy about my job is that police officers are continuously learning to keep up with changes in their job. It's just part of being an officer. Because I love learning, I went on to earn a master's degree in 2011 from Fort Hays State University with an emphasis in justice studies.
Today, I'm a sergeant with the GCPD, serving in the community policing unit and as the department's public information officer (PIO). Those two roles are quite different. In the community policing unit, I supervise the school resource officers (SROs), community service officers, and animal control officers. We also handle all community events and presentations, as well as school safety-related incidents. Wearing my other hat as the PIO, I'm responsible for all media releases on significant incidents, and I handle social media platforms for the department, including Twitter, Instagram and Facebook.
A career goal I want to accomplish is to create an unbreakable partnership with the community and continue to grow relationships between the police and the citizens of this community.
If this career path seems appealing, focus on English, Spanish, speech, and social studies. Introduction to psychology would also be beneficial, as would any class about public administration or government. Also, take all opportunities to speak to and get to know people who come from different backgrounds and cultures from you, so you can better understand the community in which you live and serve.
This job requires officers to have a strong moral code and to be healthy in mind, body, and spirit. The work is very rewarding. You will make small differences every day in the lives of those who depend on you. There's no greater feeling than saving someone's life."
---