UPS Preloader Scanner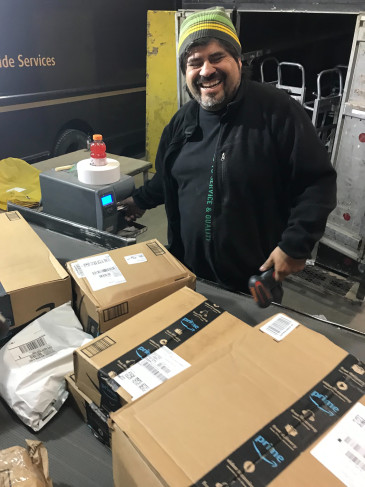 My father and his brothers served in the military, and as a kid I was always struck by how patriotic they were. That influence shaped my decision to become a soldier. I joined the Army Reserve with my two brothers right after graduating from Garden City High School, with the goal of earning the GI Bill to go to college.
All three of us trained to become Army Reserve firefighters. When the United States got involved in Desert Shield in the 1990s, we were called up to the regular Army. My parents could have decided to keep one of us stateside, but they made the decision that all of us could be deployed. Senator Robert Dole heard about our family's unselfish decision and showed up at my parents' house to take them to dinner!
I served for six years, then I went back to Garden City, earned my associate of science degree from Garden City Community College, and began working in my family's three businesses. One day, when I was on campus applying for additional scholarships, I met a man who had been hosting a job fair for UPS — but no one had attended. He asked if I'd be interested and offered to help me fill out the application. I was hired, and now the rest is history.
I've worked for UPS now for 34 years in many different roles. One of the great things about working for a big corporation is that they offer all kinds of in-house training, so you have lots of opportunities to move up in the organization. I've worked as a driver, a night loader and now I'm on the pre-loading team as a scanner. I'm also part of our UPS Safety Team and a union steward. I love mentoring new people and helping others as the most senior employee in our building.
In addition to working for UPS, I also worked in my family's three businesses until about 10 years ago, when my younger brother Gilbert passed away. His death led to my family deciding to sell those businesses, which freed me up for a new opportunity to serve. I started working as the afterschool program coordinator for a new program called
Real Men Real Leaders
. Our program guides young men (fifth and sixth graders) to become tomorrow's leaders in our community. We provide boys, and their families, with connections to community resources and mentor them in successful peer and family relationships.
Regardless of which hat I'm wearing, I love that both of my jobs allow me to create opportunities for others to succeed in life. For someone interested in working for a company that will train you to be successful, I definitely recommend UPS. If you work hard there, reward will follow. If you want to work with kids, the most important thing is to listen, always be there for them, and constantly encourage them to believe that positive thinking will create positive results.
---