Owner, Kensington Lockers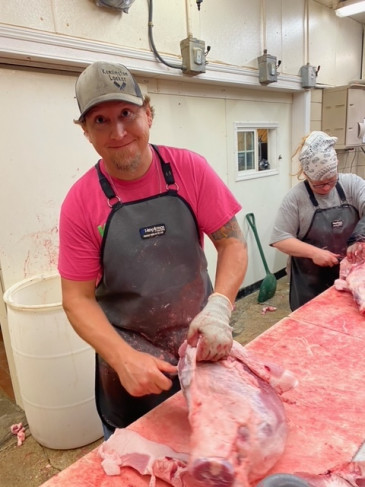 Sometimes the career finds you. At least that's how I came to be the owner of a meat locker. It was a huge leap of faith, but when the opportunity presented itself, I knew I had to give it a shot.
After high school, I worked briefly as a hunting and fishing guide before joining the Army. I graduated from airborne school and completed tours in Afghanistan while stationed at First Special Forces Group as a paratrooper. When my service was up, I took a job with a pipeline company. It was a great job, but my wife and I didn't like that it kept me away from home for six months at a time. I was on the road working when we had our third child. My wife heard the meat locker in our small town of Kensington was for sale, so we contacted the owners and the rest is history.
As the current owner of Kensington Lockers, a custom slaughterhouse and retail meat store, I do a little of everything. I work on the kill floor and prepare the carcasses for the processing floor, where I act as the main person on the de-boning table. I'm also responsible for the smoking process. There are other behind-the-scenes duties, which vary depending on the day. I love it all, but the part I like best is that I'm home every night and I can see my kids grow up. I hope to see the locker grow and become more successful, taking on more animals and offering more products. Ultimately, I want to be able to retire comfortably and pay for my kids' education.
My training for all of this came on the job from the former owner, who agreed to stay for three months after the sale to train me. Our employees taught (and still teach) me as well. There isn't a better crew! If needed, I also have the support of other lockers in Kansas and Nebraska — I can always reach out to one of them.
For the students out there who might be interested in a career like mine, I recommend that you take as many high school agriculture classes as possible. The ones I took helped prepare me for where I am today. I wish I had taken more business and accounting classes though, so don't skip those.
Education and training aside, my advice is this: Be willing to work hard. Be willing to sacrifice. Don't be afraid to ask for help. Don't be afraid to reach out to people who have been doing it for years and ask their opinion. Get a good support system that will help you navigate through what you don't know, such as an attorney or accountant. And, most importantly, you can't have "quit" anywhere in your vocabulary.
---