Executive Chef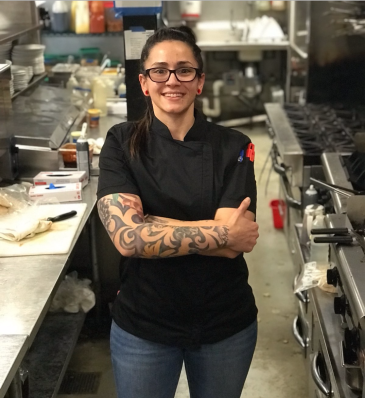 "I grew up in a very sports-focused family. My dad and I watched a lot of college basketball together, and I played on a team all the way through high school. But as I grew older, it became obvious I wasn't going to be a professional athlete. I needed to find a different type of team.
My parents worked in the hospitality industry. My dad worked for Old Country Buffet, and I remember as a kid being in the restaurant and seeing my dad manage everything wearing a suit and tie. My first job was for my parents at their restaurant. I saw the success they'd made for themselves, and I wanted to be like that. I wanted to lead people and serve really great food. I fell in love with the chaos of the industry. The stress of it. I realized I thrive really well under pressure.
I went to culinary school for two years, but I had to drop out for financial reasons. I went to work for my parents instead and learned on the job. Then when I turned 21, I became a server so I could bring home tips every day. I found some great mentors who really cared about where I was going, and I was really lucky to have those people in my life early on.
I moved to Las Vegas to work for the Red Robin chain, and that's when I first moved into management and learned that side of the business. Then life brought me to Kansas. I was hired as the executive chef at Tallgrass Tap House in Manhattan, which is a job I absolutely love. I get to write the menu, create specials, track financials, and lead and develop my team members. I love being able to interact with my team every day.
Tallgrass Tap House is the first place I've been able to create my own dish, and it's super cool to be able to walk out in the dining room and see people eating and enjoying the food I created. This past year, I've also been able to mentor several team members through the experience of creating their own dish and seeing it served in the restaurant. I've seen so much ownership and love in my team from that experience, and it makes my heart happy. It really is a big deal."
---