Video Production Assistant and Drone Pilot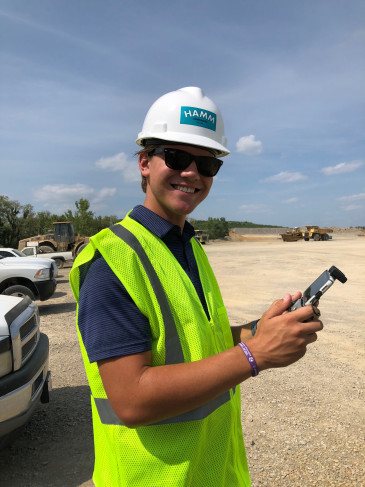 I have always been interested in architecture and was fascinated with stadiums as a kid, traveling to see them all over the world. When I got my first drone I began to photograph them, then quickly discovered that I enjoyed shooting video footage most of all. My family went to a lot of games at Kansas State University, and I loved seeing the hype videos they played for the crowd. As soon as I got the editing software at age 15, I began making my own videos.
Fast forward a few years, and I'm currently the video production assistant at New Boston Creative Group in Manhattan. I love flying, and this just gives me an opportunity to get out and do what I love even more. As the "drone guy," I take aerial videos and photos, but I also help with other video-related tasks — everything from helping create client proposals to going on shoots to editing final projects. We shoot all over the state to highlight good jobs available here in Kansas as part of the HirePaths Cool Careers video series. I love getting to see different parts of the state, and working with the companies and careers we highlight has taught me a lot about some of our most interesting industries. Every day is something different, and I'm learning all the time.
My career journey with NBCG began my senior year of high school when I took a work-based learning class. The class allowed students to get high school credit by interning at a local business for a few hours a week. I reached out to NBCG for the opportunity because I had filmed some drone footage for them previously and I wanted to know more about video production at a large-scale, professional level. Having the chance to leave the school building for a real-life work experience really pushed me in the direction I knew I wanted to go.
When I'm not working, I'm taking classes on business management at Barton Community College with an emphasis in film production. My plan is to transfer to the University of Arizona after Barton, and ultimately to manage a group of videographers or drone pilots. I own a small business that specializes in drone photography and videography called KSAerials, and I want to learn more about business so I can run it knowledgeably.
If you think you might be interested in videography, I recommend getting started in high school or earlier, learning graphic design and video editing. But my biggest piece of advice is to get a job or an internship. The work-based learning class had a huge influence on my decision to pursue this career. Hands-on experience in your field of interest is incredibly important, so get out there and find some opportunities!
---