House Supervisor, RN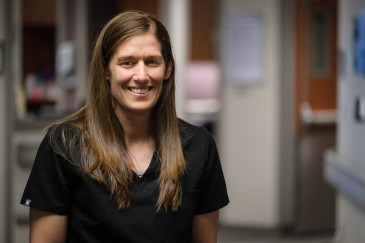 "When I was in the sixth grade, my grandfather was diagnosed with terminal lung cancer, and that really made me think about a career in health care. I wanted to know everything I could about cancer and about the medicine they were giving him. When he neared the end of his journey and hospice came in, I was intrigued by the dying process and inspired by the nurses who took care of him.
As I grew older, I thought I might go into athletic training because I loved sports. In high school, I took a lot of science classes and dual-credit college classes so that when I finally got to college, I would have more time to really focus on my major.  I eventually attended Garden City Community College and earned an associate degree in science. From there I enrolled at Washburn University to study athletic training.
While I was a student at Washburn, I worked part-time in the lab at Stormont Vail. Getting a job in health care is so critical to helping young people figure out their exact path! I changed my major to nursing and transferred within Stormont into a clinical secretary role until I finished my first semester of nursing school. Then, I could start working on the medical floor as a patient care technician (PCT).
Through all of this, I used Stormont Vail's tuition reimbursement program to help pay for my bachelor's degree. I worked part-time while going to school, and at the end of each semester I completed an application and turned in my transcript, and then Stormont would issue a check to reimburse me for my tuition. I eventually earned my bachelor's and became a registered nurse.
Once I graduated, I worked in the intensive care unit until I took on my current role as the house supervisor in the patient flow department. My main focus is on staffing and supervising the work of our patient safety monitors. This job is extremely complex and allows me to be creative and think outside of the box every day to solve staffing and capacity issues.
Eventually, I'd like to use the tuition reimbursement program again to earn my master's degree in healthcare leadership. All of these varied experiences at Stormont have helped me be successful in my career. I am always looking for new opportunities to learn and grow."
---