Superintendent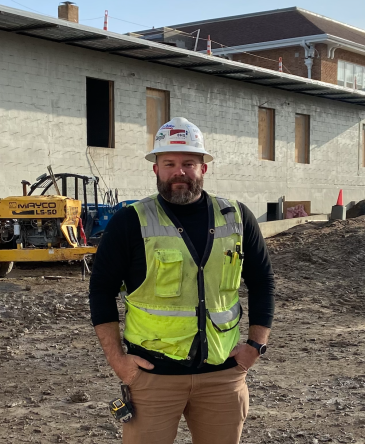 "Family has played a huge role in my career. My stepfather owns an auto body repair shop, and I worked there off and on throughout high school. That experience taught me how much I love working with my hands. Likewise, my dad is a civil engineer, and I always said I wanted to be an engineer when I grew up because I wanted to be just like him.
After high school I came to Kansas State University to study engineering — and then quickly found out that it was much harder than I ever thought. During the year I attended K-State, I worked part-time as a surveyor for the engineering firm my dad works for, and that experience sparked in me the idea that maybe there was some other role in the construction industry that would be a better fit.
Then, I met the woman who became my wife and I got to know her family, which owns a commercial construction company. Through them, I found a place for my strengths and talents. I began working for my father-in-law's company, Building Solutions, in Dodge City, working in about every position — laborer, concrete installation, carpentry, steel erection. It was truly like an apprenticeship — I learned in real time through the "school of hard knocks."
Eventually I got the opportunity to move into the office and trained to be an assistant superintendent, and then was promoted to superintendent.
My wife decided to go back to school to earn her master's degree, so we moved to Manhattan, and I was lucky enough to be hired at BHS Construction. They're a great company. I like what they're doing, how they're structured and how they take care of their people.
In my role as superintendent, I oversee all of the day-to-day operations of a project from start to finish. I run our crews, manage all of the subcontractors and their crews, make sure that the quality is what it should be, and that each project is done on time, on budget and according to the construction documents. I like working with all of the different people on a job site and being a problem solver. I enjoy making decisions on the fly and ultimately figuring out the best decision for the owner and everyone involved.
The thing I learned in high school that is the most useful to what I do today is math. When you're in high school, you think you'll never have any use for geometry, trigonometry or calculus — but I find myself using that knowledge nearly every day. As a superintendent, I'm a supervisor of people, so it's important to also know how to read social cues, motivate people and get along with everyone."
My advice for anyone considering construction is to become a jack of all trades — try as many different positions as you can. Knowing how do to everything will help you see what you enjoy and make you indispensable to your employer.
As for me, my goal is to be the best superintendent that I can be, with the possibility of someday becoming a general supervisor or even having an ownership stake in a company."
---