Senior Technician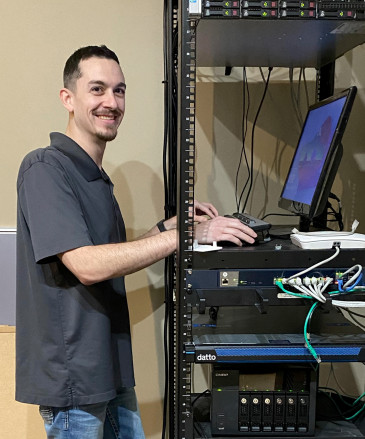 "When I was 20, my wife and I moved from Concordia to Manhattan for her education. Shortly after, my computer began slowing down due to malware. As I was researching how to clean up the computer to speed it up, I had an epiphany that I like electronics and that this could be the field for me. 
I found Manhattan Area Technical College, which was much cheaper than a four-year option. Within a couple weeks, I was enrolled in their Information and Network Technology program. My family and friends were excited for me, as I was still uncertain as to what direction I wanted to go in life.
Today, I am a senior technician at Networks Plus. In that role, I do a myriad of tasks, including helping with computer maintenance, replacing or implementing new servers in businesses, and updating networking equipment. I solve problems and future-proof clients' IT situations. I also help with quality assurance and research and development, which keeps me from getting stagnant and helps the company improve.
I had been interested in moving into a more managerial position and even started taking classes to advance towards that goal. However, I have since decided that I want to learn more about cloud computing. That is going to be the next big shift in the industry. So, my career goal is to become a Microsoft Certified Expert with a focus in Azure. 
There is always a need for people in information technology. My advice to younger people is to explore what's available in IT and what calls to you. Once you determine what you like, you can narrow down your options to find the best path to achieving your goals." 
---