Hairstylist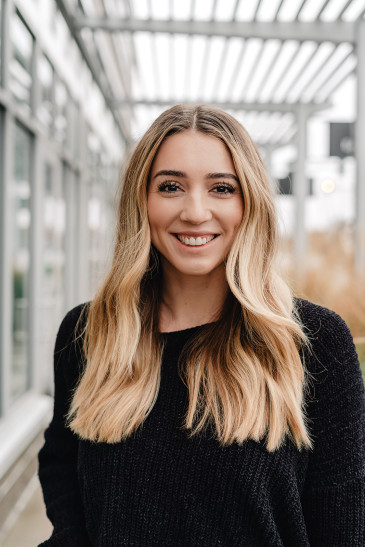 "Growing up, I thought I wanted to own my own restaurant or bakery. My parents own a small business, and I admire their hard work. Plus, I've always been a creative person.
But in eighth grade, I started going to a high-end hair salon and I loved the environment and always left feeling incredible. I realized I wanted to be able to make other people feel as beautiful and confident as I felt after walking out of the salon. My hairstylist gave me a lot of advice and encouraged me to pursue a career in cosmetology.
I ended up doing just that! At first, cosmetology school consisted of classroom work, tests and practicing on mannequin heads. After I passed all of my classes and made it through book work, I was able to get on the salon floor and treat real clients with instructor supervision. To graduate, I needed over 1,000 hours of training, and after graduation I took and passed the State Board test.
Today, I work at a salon that offers a range of services like haircuts, coloring, waxing, formal styling, keratin treatments and hair extensions. Personally, I specialize in coloring and cutting — I get to flex my creativity and it's what I enjoy most!
I wish people understood that being a hairstylist is a mentally and physically demanding job. We do a lot more than hair, and we're there for people during huge moments in their life.
In the future, I'd love to be able to teach up-and-coming stylists who are fresh out of school. In this industry, we're constantly learning and studying to stay on top of trends and refine our skills. It would be rewarding to help new stylists get set up for success.
If you're considering your future career, I'd encourage you to think about what you can see yourself enjoying day in and day out. It doesn't matter what other people think of your potential career — they won't be the ones doing it! Don't choose a job just because it seems flashy. Think about the longevity. Pursue the career you truly see yourself enjoying and thriving in."
---