Charge Nurse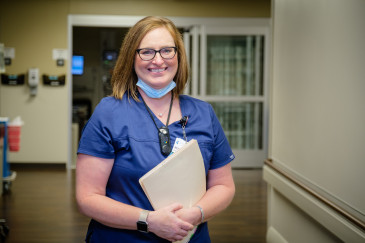 "I had been working in social services for about 15 years when I decided it was time to do something different. I didn't feel like I was fulfilling my dream of truly helping others. My neighbor, a registered nurse at Stormont Vail, suggested I think about going back to school for nursing and invited me to volunteer for her to see if it was something I was interested in.
It was! I loved volunteering at the hospital so much that I set a goal to become a registered nurse within five years. In 2012, I began to work toward becoming a certified nursing assistant then a licensed practical nurse. When I graduated with my RN degree in 2017, I met my goal! In July 2018, I started as a preoperative RN at Stormont Vail Single Day Surgery (SDS). 
Now, as charge RN at SDS, I enjoy coming to work every day and can see myself staying here a very long time. My staff of 28 consists of surgical techs, an operating room assistant, and preoperative, post-anesthesia care unit and operating room nurses. I'm in charge of ensuring the daily tasks are completed, as well as finances, scheduling, staffing, training and any other needs that may arise. 
Aside from a high school anatomy and physiology class, I didn't have prior experience in health care when I started this career. I began as a phlebotomist in the lab and worked there throughout my LPN program. Once I received my LPN license, I got a job in the cardiology department and became certified to start IVs so I could help give IV Lasix in the Heart Failure Clinic. I stepped into the role of heart failure educator while getting my associate degree in nursing (ADN) and I'm now working on my bachelor of science in nursing (BSN).
Throughout my educational journey, I've been able to take advantage of the tuition reimbursement program at Stormont Vail. I was able to save, pay out of pocket, and then be reimbursed, which has allowed me to avoid student loans.
Health care is a great career with a wealth of opportunity. I encourage others to volunteer in the industry to experience what a day in the life of a nurse entails. If you're interested in improving the lives of others, go for it!"
---