Construction Technology Instructor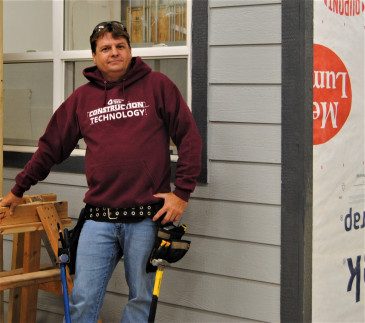 "There was a hailstorm one night when I was 11 years old, and after that, my parents decided we needed a carport. The company delivered the supplies, but they never showed up to build it. I'd always loved playing with my carpenter-grandfather's tools, so I grabbed my dad's and took it upon myself to build that carport. It stood strong for 25 years, until a new homeowner removed it.
I'm now the Occupational Safety and Health Administration (OSHA)/construction technology instructor at Manhattan Area Technical College, but my path here was a long and winding one. 
Though I was a natural with carpentry, I actually started out as a welder. One day, a co-worker suffered a fatal accident on the job, and I decided to take a break. My older brother had also followed my grandpa's footsteps into carpentry, and we joined forces to build houses in Lawrence. When he left to give firefighting a try, I stayed the course and ended up with seven crews, framing houses and commercial buildings for more than 20 years.
In 2008 it was time for another break. I sold my construction business and soon found myself working maintenance in health care. The next thing I knew, I was recruited to be a facilities manager. Next, a director. Then I was asked to move to Chicago and hire facilities teams for new hospitals across the country. But the frequent flying got to me. When I got a call from Washburn University asking me to teach carpentry, I returned to Topeka and became an instructor.
I enjoyed working with students so much that when the opportunity to build my own curriculum at MATC arose, I jumped at the chance. What I like most about my current position is the impact the students and I make on the community by building Habitat for Humanity houses. They get out into the community, and not only do they get volunteer experience, but they get to meet the family. They get to see that life's not all about money. It's about helping people, and the pride of driving by a house and saying, "See that house? I helped build it."
I feel good knowing my students start out with several certifications under their belt, such as the OSHA Construction 30 Hour and the Carpentry Level 1 and 2 certifications from the National Center for Construction Education. It's also great to be able to take my program to local high schools, which allows the students to graduate with college credit.
If you like to work with your hands and think carpentry might be for you, be sure to take architecture and drafting classes in high school. Psychology, math … all of them, really, got me where I am today. I wish I had taken more public speaking classes — not having that skill was one of my biggest hurdles starting out. If you break that barrier, you'll go farther in any career. Never stop learning, because there are always other avenues!"
---