Owner, Stetson Cattle Company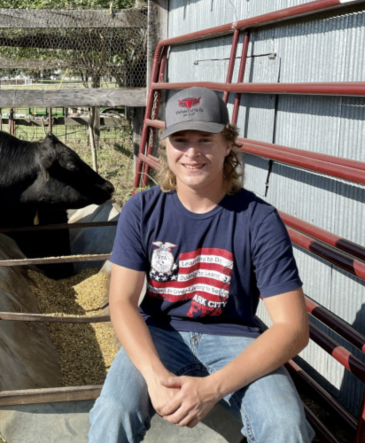 I've never wanted to be anything other than a farmer. For me, farming is a lifestyle, not a job. 
I started learning about animal agriculture early. My family raised goats when I was younger, and when I was old enough to join 4-H, I began to show steers. Now, as a sophomore in high school and FFA member, I'm learning how to use my knowledge and experience to kick start my career. You could say I've been working on the farm my whole life, but now I've actually started my own business venture: Stetson Cattle Company. 
Through FFA, high school students can do vocational training called a Supervised Agricultural Experience (SAE). After speaking with my teachers, I decided to start raising feeder steers — that is, raising steers, sending them off for processing and then selling the beef. My teachers helped me locate the resources I needed to get the business up and running: One suggested the venture and helped me set it up, one taught me to do the bookkeeping and a third helped me sell hats and T-shirts. 
As the owner of Stetson Cattle Company, I strive to raise quality beef at a competitive price. I'm responsible for the cattle's nutritional needs and care, and all the daily chores. I've also developed my own feed blend, which is a point of pride. My customer base is steadily growing — it started with family and friends, then expanded throughout the community and even includes my school. It's important to me to keep my customers happy, so the positive feedback I receive from them means a lot. To me, it doesn't even feel like a job.
Business has been good, and I'm happy to say I'll soon be launching my own breeding operation. My goal is to continue to develop the business every year and become a successful farmer and rancher alongside my parents and grandparents.
To anyone out there who hopes to launch a similar venture — through an SAE or otherwise — I recommend taking your high school classes seriously. Animal science, agricultural mechanics, welding and agricultural science have all helped me immensely. Take advantage of the experiences and leadership opportunities offered by clubs, too, such as 4-H and FFA. Most importantly, be open to learning from anyone you can. Different people farm and ranch differently. There isn't just one way to do it, so you have to be open to new ideas and be willing to try new things.
---