Asphalt Plant Manager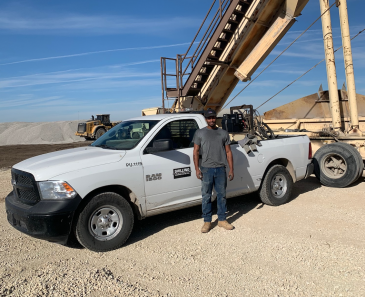 The construction industry was always a perfect match for me. Even as a kid, I enjoyed building things and completing hands-on projects. I take a lot of pride in my work, so I decided to combine that passion with my talents and make a career of them.
My interest in the construction trades came largely from my grandpa. A jack-of-all-trades, he could do everything from landscape remodeling to heavy equipment repair. You name it — he could do it, and do it well. I worked with him on side jobs when I was younger, and after graduating from high school, I started doing labor jobs for temp agencies.
These days, I'm an asphalt plant manager for Shilling Asphalt Inc. in Manhattan. I began as a plant groundsman and worked my way up to this position over a period of two years. My duties are to mix the asphalt, perform maintenance on the plant and take care of troubleshooting needs quickly and efficiently to minimize downtime. And because we work with propane and blazing hot materials, it's everyone's responsibility to maintain the strong safety foundation we have as a company.
I like that there's always something different going on, and that the travel involved with my position provides a frequent change of scenery. It also feels good to drive on a road you helped create. My career goal is simple: I plan to continue along this path, working hard toward a comfortable retirement and more time spent with family.
In high school, I didn't take any CTE courses that helped me prepare for this job. Looking back, I wish I had enrolled in some maintenance and mechanic classes to get a head start on broadening my skillset. Why not take advantage of any training you can get during high school, when you don't have to pay for the tuition?
If you're a hands-on individual like me, this is a great career path. My advice to anyone considering something similar to what I do is to pay close attention to your training and stay up to date on all safety rules and regulations. When things get intense, stay calm and remember that training. You'll do great!
---