Firefighter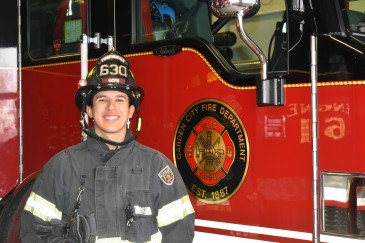 "Growing up in California, our family had several friends who were firefighters. My dad introduced me to one of them, and that conversation sparked my interest. I went through EMT training at EMSTA College in San Diego, then I went through fire academy training through CAL FIRE (California Department of Forestry and Fire Protection). After my training was complete, I moved to Salina, then to Garden City to take this job as a firefighter I with the Garden City Fire Department.
When we're not responding to emergency calls, firefighters handle business inspections, test hydrants and train. I like coming to work knowing it won't be the same thing every day and I'll never be bored.
While you can't take most fire science classes until college, high school students wanting to work as firefighters should take chemistry and foreign language classes to prepare for this career. I'd also recommend participating in explorer programs or spending time touring departments to see what this career is like. After high school, firefighters don't necessarily need a degree, but most have at least a year of community college training to learn what is needed to do this job.
Training never ends for firefighters. We train physically almost every day, and we're constantly trying to learn new skills so that we don't find ourselves someday stuck in a situation where we don't know what to do. The training is a lot of hard work, but my advice is not to lose your motivation or give up. In the end, it's worth it. I enjoy the adrenaline rush of emergency situations, and knowing my efforts help others."
---