911 Communications Dispatcher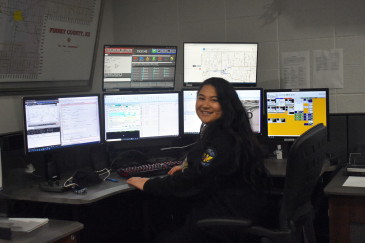 "When I was younger, I wanted to be a fashion designer. In high school, I took three years of fashion classes. However, I started to realize that not a lot of people make it into the fashion industry without a great scholarship or personal contacts. My fashion teacher said I'm great with people, and suggested I look for a career that would make use of my people skills. She steered me into considering law enforcement.
After graduation, I went to college for a few years and worked several different jobs, but the cost of college just got to be too much. I applied with the City of Garden City to become a dispatcher, and I liked that you can do this job with either a college degree or a high school diploma. Plus, it offers great insurance.
After you're hired, the communications training officers (CTOs) and supervisors teach you everything you need to know through a mini academy.
As a 911 dispatcher, I answer and handle emergency, non-emergency and administrative calls for the police department, emergency management services (EMS) and the fire department. It's always an adventure in that no two days are ever the same, and anything can happen. EMS calls get me the most. You might have a call from someone whose child isn't breathing, or you could be called to send help for an industrial accident.
What I love about what I do is that my co-workers are like family. When you work with two or three other people for 12 hours at a time, you get very close. You also get close with the officers. The officers look out for us, sometimes bringing us lunch when they know it's been a busy shift, and always making sure we get home safely.
Someday, I'd like to be promoted to a CTO or supervisory role. I would enjoy training new hires and serving as a resource to them.
If you think that being a dispatcher might be of interest to you, I recommend you tour as many agencies as you can – police, fire, EMS, dispatching. They all have programs that allow students to come in and ride along for a day or two to get a good idea of what you're stepping into."
---