Electrician Apprentice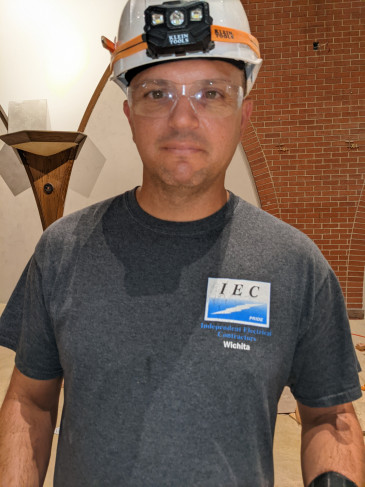 When I was a child, I wanted to be a lawyer. I liked the idea of using logic to arrive at a certain point or conclusion. That interest never went away, but instead of using logic in a courtroom, now I use it to install electrical features. 
I originally became interested in this industry when renewable energy started to become a hot topic. I wanted to understand more about the process, so I started reading up. It turns out that reading about such a complex topic is a little tricky, and I didn't understand everything through articles alone. That's when I decided to get hands-on experience and pursue this career path through an apprenticeship program. 
Currently, I'm in my third year of an apprenticeship program with the Independent Electrical Contractors Association in Wichita. My responsibilities include installing raceways (wiring mounted on the surface of a wall, inside metal tubing) and light fixtures, while also helping journeymen and master electricians. The best part about my job is seeing the lights come on — there's a huge sense of accomplishment in that moment.
The Independent Electrical Contractors Association offers the most comprehensive program out there, which is why I chose this training. I'm really enjoying everything so far and am looking forward to where it leads me! 
If you're interested in the electrical field, I'd tell you to take algebra, physics, geometry and shop in high school if you can. From there, go for it! There are tons of different avenues in this industry, so you can find the one that suits you best. 
---