Clinical Nurse Manager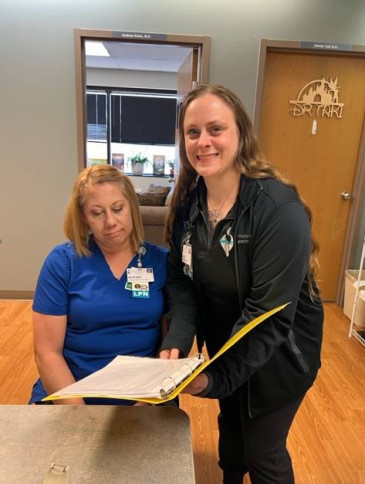 When I was in 1st grade, our class was asked to think about where we saw ourselves in the future. I still have that yearbook, and at seven years old I said I wanted to be a pediatrician. Throughout the years, I bounced back and forth between pursuing that dream of health care and going down the road of teaching. I always loved helping people and making them smile — ultimately, I wanted to do something challenging, exciting and impactful.
As I got older, it became clear that the healthcare industry was the path for me. I was able to take health, nutrition and science classes in high school that started to prepare me for the next step. After graduating, I got a job as a clinical secretary in the intensive care unit at Stormont Vail Health Center. While in this position, I worked to earn my CNA (certified nurse assistant) license. Once I'd earned my CNA, I transitioned into a patient care technician role. Over the next few years, I completed training to become a licensed practical nurse and eventually a registered nurse. As I earned each level of education, I was able to move into new positions at Stormont.
A great thing about Stormont is their tuition reimbursement program. I took advantage of this financial assistance when I completed all those programs, from my CNA to my RN. Working for an employer that cares about your continued education is really special.
My experience working in a variety of units at Stormont helped me get a feel for what happens all around the facility and learn from many incredible individuals. Today, I'm a clinical nurse manager for the Family Practice and Patient Care Center Medical Home. In this role, I manage our team members (like LPNs, RNs and others) who work remotely and oversee daily operations in the clinic to provide the best patient care possible. A few examples of my daily tasks are figuring out schedules for employees, handling payroll, holding staff meetings, ordering supplies and trying to make our work environment the best it can be.
Picking just one thing I love about my job is hard, but if I had to, I'd say it's the people. My colleagues are all super-hard workers, and we support each other. Plus, getting to work with our patients is very rewarding. I've been in this unit for more than seven years now, so I've come to know some of our patients and watched them transition through different life stages.
If you're considering a career in nursing, you can get started now! Even in high school, you can start working toward your CNA or take classes like science and math. Many schools or businesses have partnerships with local institutions that allow you to earn your CNA while in school or through a dual credit program. For example, Stormont has partnered with the Topeka Center for Advanced Learning & Careers to offer a CNA program that lets you explore this career and see if it's right for you.
But most importantly, remember to be a lifelong learner. Most fields — especially health care — change almost daily, so ask questions, have a great attitude and learn something new each day. 
---