Construction Worker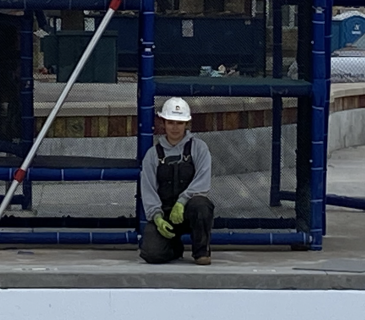 I grew up the oldest child of immigrant parents who had little education and barely spoke English. Most of my childhood was spent translating documents for them and acting as the voice of our household. Both of my parents worked with their hands and were always taking on new jobs to provide income. This helped me become a creative and hard-working individual, and it showed me at a young age that anything is possible if I try hard enough.
My dad worked some construction jobs and taught me a few things, but we figured the trades were a man's world and I ended up in customer service. For many years I enjoyed working for the State of Kansas, helping people get back to work and supporting my community as a case worker for the Department of Commerce. On the weekends, though, I began to build and fix things and watch lots of videos on construction and DIY projects. I secretly wished that one day — maybe in another life — I could become a carpenter. I enjoyed using my creativity to make things and wanted to find a way in.
After seven years with the state and no prospects for a raise or promotion due to frozen wages, my frustration level was high. I was helping people find training to change careers, and one day I learned about a new apprenticeship program in carpentry through WSU Tech. This was my way in! I enrolled in the program, gave my notice and never looked back.
Now I work as a construction laborer for pretty much any type of project you can think of: remodeling jobs for churches, offices and public pools; building walls from studs; framing, pouring and finishing concrete; installing cabinets and countertops; and so on. Being a woman in a male-dominated field has been easy for me. I've outworked most of my peers and I learn quickly. In fact, I'm always learning, which is what I enjoy most about my career. Plus, the "office" setting is never the same.
I continue to watch for opportunities to come my way. Recently, I asked to take on a safety role that will increase my pay and responsibilities. Hopefully I'll be able to expand my skills and knowledge, which will open new avenues for me. My ultimate goal is to one day remodel my own properties and become a landlord. 
My advice to anyone who might be planning on a similar career path is to take your high school math classes seriously. I use math daily when estimating the need for materials and taking measurements, and I often have to add and subtract fractions. 
While some people see construction as a dead end or a last-resort career, I'm very proud to contribute to the growth of my community. In the beginning it may seem overwhelming, but with time and drive you become empowered and capable. Be willing to ask questions and seek assistance when you aren't sure — help will present itself when you're willing to learn.
---