Owner and Executive Chef, Chez Matou Catering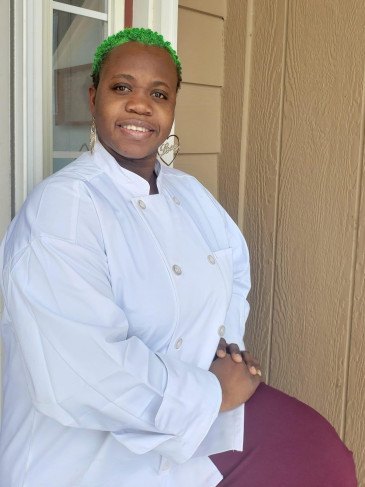 I've been cooking since I was 14 years old, but I never thought of it as a career path. When I moved to the United States in 2003, I started using my cooking skills to make and sell paté kòde, or Haitian meat pies. Quite frankly, it was the easiest way I could make money while I waited to improve my English skills and get a real paying job. 
One evening my family had dinner at Chez Yonyon, a Haitian restaurant that was well known in Washington, D.C. I remember thinking, "One day I'm going to open my own Haitian restaurant called Chez Matou, and I'll offer the same excellent service I received here." 
I held several jobs over the years, though I never stopped making paté kòde. In 2007, I had my daughter Hope, and I wasn't making enough to meet my financial obligations. I had been sharing my Haitian cuisine with others free of charge, but I needed to come up with a new way to make ends meet. Basically, I started my restaurant on the dining room table of the two-bedroom apartment I shared with my sister. I joined the Army in 2008 and moved to Fort Riley near Junction City, Kansas, but I continued to host my dinners and began selling plates to soldiers. 
I still dreamed of opening my restaurant, of offering authentic Haitian cuisine and sharing my culture — an important part of who I am today — with Americans. Above all, I dreamed of making others feel at home when they patronize my business, just the way I felt when I dined at Chez Yonyon. 
Like all journeys, mine experienced challenges and setbacks. I was diagnosed with major depression in 2012 and was no longer able to serve in the Army. I began attending Kansas State University and earned a bachelor's degree in social science. I took a break toward the end of my master's program when I became pregnant with my third child. Unfortunately, Harmony was stillborn in January 2020, and it was too late to register for the spring semester. My grief felt 10 times harder when I had too much idle time. But then I stumbled upon an ad for Escoffier School of Culinary Arts. I quickly registered and began my formal culinary training.   
My dream is now starting to take shape. Today, with the help of my husband and mom, I'm the owner and executive chef at Chez Matou Catering in Junction City. I manage the menu, vendor and customer relations, inventory and overall daily operation of the business. It's so gratifying when people enjoy my food. In my mind, that means they appreciate my culture. 
For young Kansans considering a career in the food industry, I would say English classes are important, especially because you have to use correct grammar to advertise your business. You also need a solid understanding of math — specifically accounting. Even if you have an accountant, you'll need to understand how to evaluate your cash flow on a balance sheet and identify necessary adjustments to your investments.
Someday I hope to own a resort or a bed and breakfast at the very least, and you best believe I'll offer Haitian cuisine to my guests! I have a long way to go, but I'm confident I'll get there someday.
---