HVAC Service Technician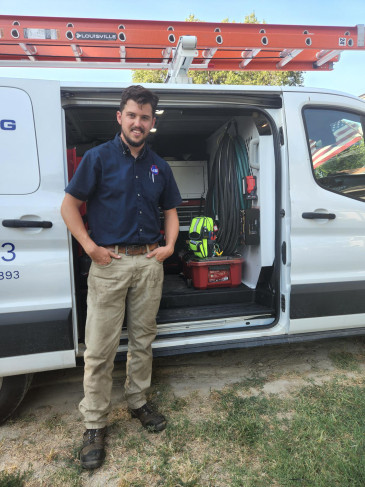 I took a pretty unusual path to get to where I am today! 
I always knew the heating and cooling industry was an interesting field. So right after high school, I earned my bachelor's degree in construction science and management. With that degree in hand, I started working in an office as a manager/estimator for CM3 Inc. in Wichita, which is a large HVAC company. 
After about a year, though, I realized I was more interested in the technical aspects of the field. I wanted to work with tools, not a computer. It was a stressful time, and I wasn't enjoying the work. 
Luckily, the company let me transition into a service role in the field! Today, I'm an HVAC service technician at U.S. Engineering Service LLC, still in Wichita. This means I help maintain and repair heating, cooling, ventilation and refrigeration systems for businesses, schools, large commercial buildings and more. 
To get the training I needed for this job, I read all the textbooks I could get my hands on and did as much as I could to teach myself. I also got on-the-job training from more experienced techs. 
One of the best parts about this position is walking into a building without heating or cooling and being able to fix things — you get to be a hero! People are appreciative of the work I do, which means a lot. 
Another thing that gets me excited about this industry are the environmental impact possibilities. We're always working to find new eco-friendly refrigerants and other technologies to use less energy. As a technician, I can help point building owners towards better HVAC systems and practices to decrease their electricity usage. I think the sustainability side of things is only going to become more important as the years go by. 
Ultimately, I'm fulfilled in my career, and it's allowed me to become a homeowner and provide for my family — it doesn't get much better than that. 
Many people don't know what they want to do for a living. This is an excellent, challenging and rewarding industry that also pays well! Plus, the cost of a technical certificate or apprenticeship is a fraction of the cost of a four-year university. 
If you're interested in pursuing this path, reach out to your local plumber and pipefitter union or local technical college and get a tour of their training facilities. They'll be able to help you get started and recommend the right training. 
Once you learn a trade, you can go anywhere and make a great living — your skills will always be in demand!
---