Agronomist/Precision Ag Specialist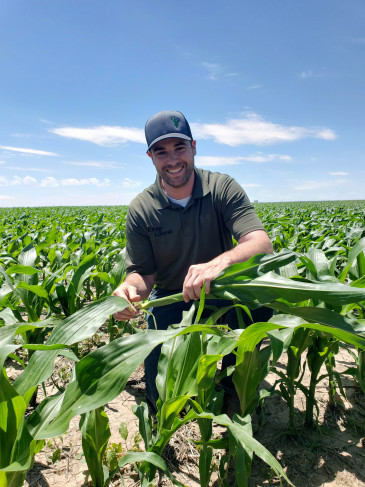 I've always had a fascination with farming, especially farm machinery. My father, an agronomist, helped a farmer with harvest and I was hooked from a very young age. I looked forward to spending all day and most of the night observing, and my parents had to pry me out of the machinery when it was time to go home.
When I arrived at college, I still knew I wanted to end up in agriculture, but I wasn't a hundred percent sure of what I wanted to do. Once I got my general education classes out of the way, I decided to start with some agronomy classes. I found I enjoyed learning about crops and solving problems in the field. I also enjoyed the people in the program; they made the big university feel more like a small town.
I did an internship with Crop Quest to narrow my career options. There, I learned more in three months than I did in three years of college — it helped connect the dots between the real world and the concepts I was learning in class.
The internship led to a full-time position at Crop Quest. My current title is agronomist and precision ag specialist. I have a unique role in the company: I spend time in the field as an agronomist, but I also serve in a tech support role.
As part of our agronomy team, I check fields weekly looking for problems and come up with environmentally friendly solutions. A lot of my time is spent planning what crops to plant, how to kill weeds, how to address insect problems, what fertilizers to apply and how to keep the plants healthy. As a precision ag specialist, I help ensure our equipment and programs work properly. The precision ag team evaluates technology for the company and makes sure everyone knows how to use it. Today's farming is very technical, and we can program farm equipment to do precisely what we want it to do in the exact spot it should be done. We also map soils for our clients, which gives us a better idea of where to apply nutrients, water and other products.
There are a lot of great things about this career. I enjoy working outside, away from the hustle of the city. But most of all, it's rewarding to help farmers manage their land well and build a successful business that can be passed down. We start out as someone who helps protect the farmer's investment but end up as family.
To get a head start on a career like mine, you'll want to study a broad range of subjects. Math, chemistry, biology and English are classes that I utilize in some fashion every day. My school didn't offer FFA, but that would be great agriculture exposure. Later on, internships or apprenticeships are the best way to get hands-on experience before you enter the workforce.
Don't be afraid to ask questions. We're more than willing to visit with anyone who's interested and show them what we do — agriculture needs more young professionals!
---