Registered Nurse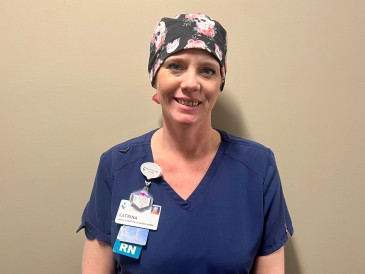 My mom is a nurse, so I've always been interested in the healthcare industry. I remember when I was in 5th grade, she came to Career Day and brought a bunch of bones into class and told us about where they were in the body and what they did. That day has always stuck with me, but it took me a few years to make my own way into the medical field.
After graduating from high school, I started working as a cosmetologist. After eight years, though, I felt like I needed a change. I knew I wanted to go into nursing like my mom, but I wasn't sure how to get started. I initially got an administrative job at Stormont Vail Health Center in the environmental services division, which helped me learn about the hospital and what happens on different floors and units. Then, I transferred to the emergency department and worked as a registrar, dealing with files and record keeping. After a few years of working in different office settings throughout Stormont, I decided that I wanted more patient interaction.
To get where I wanted to be professionally, I earned my CNA (certified nursing assistant) license and began working in the family practice unit at Stormont while going to nursing school at the same time, eventually earning my associate degree and passing my exam to become a registered nurse. Through Stormont's tuition assistance program, I was reimbursed for the cost of my CNA and RN licenses.
Today, I'm a registered nurse in the Single Day Surgery Center. I'm in charge of getting the operating room ready and ensuring we have everything we need for surgery. I also talk with the patients and their families before the operation to answer any questions and help put their worries at ease. I love being able to talk with everyone and interact with different kinds of people. It's also fun to watch the surgeries! It's incredible the kinds of things we can do, from knee replacements to repairing fractures.
Eventually, I would like to get into the management side of things, but right now, I'm focusing on learning as much as I can as an RN and being the best nurse I can be.
For anyone interested in nursing, take as many science and math classes as you can! And if I could go back, I would get my CNA in high school and start down my path sooner, so if that's available to you, definitely take advantage of the opportunity. No matter what field you're interested in, get as much hands-on experience as you can!
---