Paving Foreman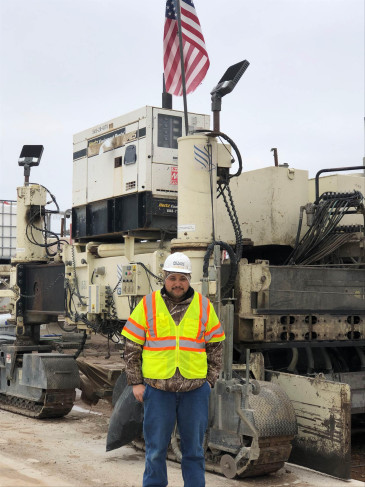 "In high school, construction was interesting to me because of the nice trucks that construction workers had — plus, my brother worked in construction, so I'd seen what it was like firsthand. So, I took all of the courses my high school offered related to construction. My school had a program that would let you apprentice after graduation and learn the equipment for the industry. Through that program, I learned how to finish and pave driveways, which gave me real experience with concrete.
After that apprenticeship, I was hired as a laborer at Koss Construction. I've been promoted several times, most recently to a salaried position as a paving foreman. I go behind the paver and ensure the quality of material and pavement. I am in charge of the concrete finishers, ordering concrete, and setting up the paving equipment.
This is not an easy job. You get to travel a lot, but that also means you're often away from home. You have to really enjoy the industry to love the work. It's long hours, long weeks and often in inclement weather. However, this is an industry with great opportunities, good pay and lots of job security. If this seems like the type of work for you, my advice is to get all of the experience you can in high school, especially with equipment and real construction practices."                     
---