Animal Care Manager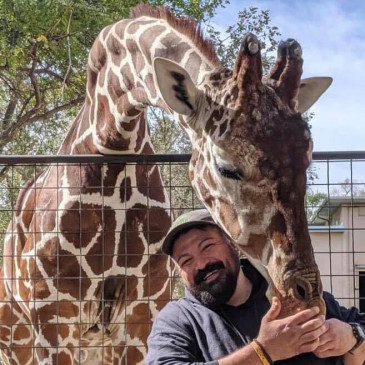 I grew up on a small farm where we had cattle, horses, hogs, sheep, goats and chickens, so I was always around animals. From a young age, my father taught me how to identify the ones who weren't feeling well and what the best ways to make them feel better would be. Nurturing and taking care of the animals really came naturally.
Honestly, it feels like my current job found me. There was a posting in our local paper for an opening at Lee Richardson Zoo as a commissary keeper, which is the person responsible for preparing diets for all the animals at the zoo. At the time, I didn't have the typical background of other zookeepers, but I did have an eagerness to learn, a passion for the job and a very strong work ethic. My background with animals on the farm was probably what allowed me to get a foot in the door, then I was given the chance to return for a working interview. For the interview, I helped clean exhibits, bathe elephants, medicate a rhino and feed a giraffe — I'll never forget that Sunday in January 2003! From that moment on, I knew what I wanted to do for the rest of my life. I received an offer to start as an elephant keeper, and today I've been with Lee Richardson Zoo for almost 20 years.
I worked my way up from elephant keeper to lead keeper and elephant manager to my current position as animal care manager. In this role, I oversee the entire animal collection and the keeper staff who take care of them. I work very closely with the deputy director, director and staff veterinarian to ensure the animal collection is healthy and day-to-day operations go smoothly. I still assist the staff with daily projects like cleaning, hauling grain or hay to barns, maintaining exhibits and interacting with the public during keeper chats and behind-the-scenes tours. Some of my other duties include preparing for animal transfers, ordering supplies and managing the budget.
One of the most rewarding things for me is teaching young, up-and-coming zookeepers. Watching them grow, learn new skills and techniques is amazing. Plus, the look in their eyes when something clicks is so cool!
A big career goal of mine is to help Lee Richardson Zoo continue to grow and thrive. The zoo is such a fantastic place for Garden City and surrounding communities. To make that goal a reality, we need to maintain successful breeding programs and contribute to conservation. I would also love to see a large herd of Asian Wild Horses call Lee Richardson Zoo "home!"
If you want to pursue this career, you must be passionate, dedicated and, above all else, have a very strong work ethic. This work might go unnoticed by the average Joe but knowing the animals we care for are mentally stimulated and physically healthy is the biggest reward — I wouldn't trade what I do for anything!
---