Respiratory Therapist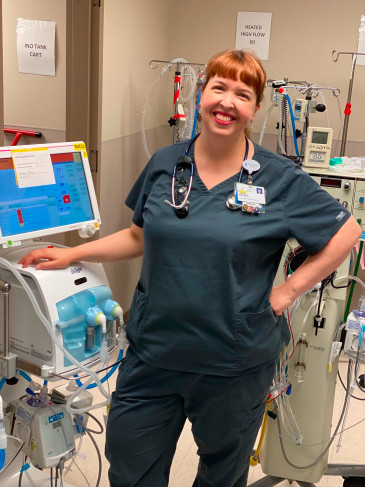 "The idea of working in health care never occurred to me until my mother went to nursing school in her late 40s. I was in my early 20s and had dropped out of college. I wanted a better life for myself, but had no idea what I wanted to do.
When my mom took a job at a local hospital, she heard about a program there that provided tuition assistance for respiratory therapy students and encouraged me to apply. I figured, why not? I like science and helping people. That was more than 20 years ago.
I'm now a staff respiratory therapist at Stormont Vail Health. In less critical units, I administer breathing treatments and other types of therapy to increase lung capacity or help patients clear their lungs. In the intensive care units, I perform those same kinds of therapy, plus manage the ventilator for people on life support. RTs are part of the resuscitation team, so I also respond to trauma cases in the emergency room and "code blue" situations throughout the hospital.
It can be a demanding job, but it's also satisfying because the medication and therapy we give often makes patients feel better right away. Even on the tough days, I know I helped improve someone's quality of life. Plus, I get to see a lot of variety. RTs care for patients in every unit of the hospital, from the youngest to the oldest, with a wide variety of medical conditions. There are days when my workload is fast-paced and demanding, and other days when I have time to chat and connect with patients and their families. Just when I get used to things as they are, they change again. It's hard to get bored in that kind of environment!
RTs can be ready for employment after two years of training. Most programs provide an associate degree. I'm currently working on my bachelor's degree at Washburn University, taking advantage of Stormont's tuition reimbursement program. In high school, I took the most challenging biology and physics classes available. Biology has obviously been useful in terms of understanding how the body works. Also, many respiratory therapy devices operate on principles of fluid dynamics, so that's where physics classes come in handy. The other class that's been useful, believe it or not, has been psychology. A lot of my job involves interacting with patients who are stressed, exhausted, in pain or all of the above. Understanding the issues behind their (sometimes challenging!) behavior has helped me stay patient and compassionate.
If you're looking for a work environment with a lot of variety and that carries new challenges every day, respiratory therapy might be for you. Also, RTs are in high demand all over the country, so it's a job that can literally take you places."
---