Police Corporal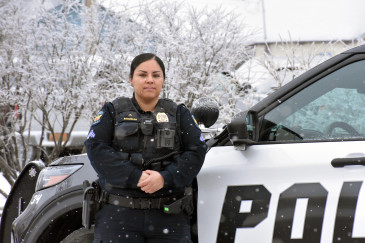 "My freshman year of high school, I took a law class that started me on my law enforcement journey. The teacher had previously been a police and corrections officer, so he'd always tell us stories that intrigued me and made me realize that was what I wanted to do. Throughout the rest of high school, I took two more law courses, sociology, and participated in a sheriff's office program that helped me further explore the direction I was leaning.
By my senior year, I had enough credits to graduate early, and I started taking dual-credit criminal justice courses at Garden City Community College. I was able to finish my associate degree in one and a half years after high school because of the opportunity to get a head start.
GCCC's criminal justice program is very hands on, which provides students amazing opportunities. The program has a great relationship with the Garden City Police Department, and many officers are instructors. I was able to do an internship for academic credit with the GCPD, and a few months later, I was hired part-time as a police service aide, which is a non-sworn position that allows people ages 19 to 21 to work the streets as an officer while going to school. As a police aide, you're essentially an officer, just without the ability to carry a firearm. By the time I turned 21, I'd already completed all my field training, so I was sworn in as a full-time officer and went to the Kansas Law Enforcement Training Center in Hutchinson for my police academy training.
Every state handles how they train officers differently, but in Kansas, you're hired by a police agency and then they send you to the academy and pay for your training. In other states, you have to pay for your own training then get hired, so it's easier and more affordable here.
Today, I've been promoted to corporal with the Garden City Police Department, which means I supervise the officers working the streets, answering directly to the sergeant who is in charge of everything. When he's gone, I'm in charge. I'm not the type of person that likes to sit behind a desk. I like doing different things all the time, and in this job, you never know what you're going to get.
I'm a very social, people person. I like talking to people, even when the interaction isn't the most positive. However, there are these very special moments, when you encounter someone you worked with in the past who has now improved their life, and they thank you for the role you played in that. Those moments are what make it worth it, and they make you feel appreciated.
If being in law enforcement intrigues you, I definitely suggest you explore ways to research the profession firsthand. Most programs offer ride-alongs, so that you can get an up-close look at what it's like. I also encourage you to study a foreign language. I'm bilingual, and that's very helpful in every aspect of the job, especially in a diverse community like Garden City."
---