Registered Dental Hygienist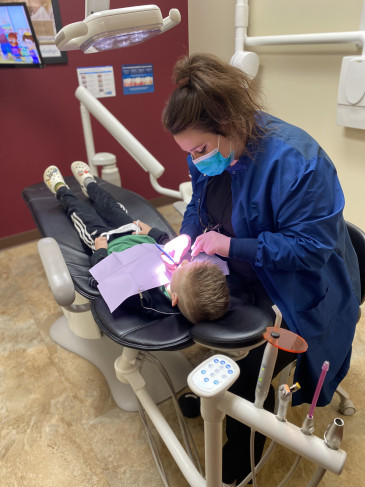 "As a child, I wanted to be a veterinarian because I love animals, but I first became interested in dental hygiene when I attended a career fair during my junior year of high school. I loved that this career would allow me to provide service to the public and would accommodate the type of life I wanted outside of work.
I earned an associate degree in dental hygiene at Missouri Southern State University before being hired at Herron Regional Dental Center, which has offices in Pittsburg and Columbus, Kansas. As a dental hygienist, I perform preventative care and screen for oral diseases, while educating patients about the best practices they can do at home to achieve good oral health.
My ultimate career goal as a dental hygienist is to never stop learning about new techniques and equipment. Dentistry is constantly evolving to give patients the best standard of care possible.
I love making relationships with my patients. You gain a lot of friends through this job that you might not have without these hour-long appointments twice a year!
If this sounds like a possible career for you, I suggest taking anatomy classes in high school. Anatomy will give you a great baseline for how everything works, and you'll learn a lot of key terminology. A class I wish I'd taken in high school was public speaking. As a dental hygienist, you have to educate and convey information in a way that patients will understand. While they aren't necessarily speeches, you do have to relay information clearly and confidently every day.
Before you decide whether to pursue this career, do a lot of research to understand the good, the bad, and the ugly. Shadow your own hygienist and get a feel for what the day-to-day is really like. It takes a lot of hours and dedication to become a dental hygienist, but it's so worth it!"
---