Operating Room Registered Nurse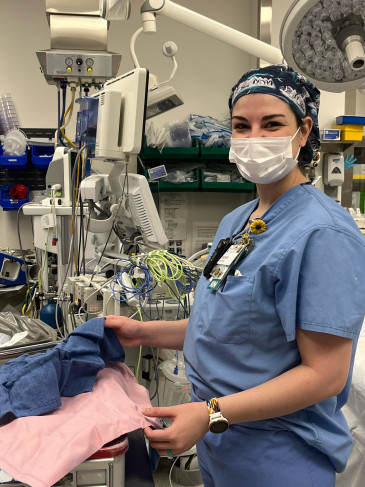 My fascination with the human body began at a very young age. When I was in first grade, I scraped my knee and told my mom to not worry because my platelets were forming a scab for me. In high school, when my dad had heart surgery, I realized I wanted to do something involving surgery someday.
I was planning to become a surgeon when I graduated. I began the pre-medicine program at the University of Kansas, but an accident during my sophomore year caused me to medically withdraw for a semester. During that time off, I decided I just wanted to start working as soon as possible and applied for the surgical technologist program at the Washburn Institute of Technology. I worked as a scrub tech for about two years, then enrolled in nursing school at Baker University.
Today, I'm a circulating RN on the Cardiothoracic Surgery Team in Stormont Vail Health's main OR. I help prep the room for a procedure, then go and get the patient. I help the anesthesia provider put the patient to sleep and secure their airway, then I position them carefully on the table in a way that won't injure them — sometimes the patient will be lying in the same position for several hours.
During the surgery, I provide sterile supplies for the team and ensure the patient is safe. If it's a longer surgery, I also communicate with families and provide them with updates. Hands down, my favorite part of the job is making patients and their families feel better on what is a scary day for them.
Maybe someday I'll go back to school and get a graduate degree to become a nurse practitioner, but right now I'm happy with where I am and what I do every day. The good thing about nursing is there are so many different career paths to take if I decide I don't want to be in surgery anymore.
If you're in high school and you're thinking about a career in health care, keep in mind that biology and chemistry were definitely the most helpful in preparing me for my college and tech school classes. I also was lucky that my school offered anatomy and physiology. If I could go back, I would have been more serious about practicing public speaking — I'm very shy and that can sometimes get in the way of connecting with my patients.
No matter where you are in your journey, though, don't let the hard work deter you from accomplishing your goals. There were so many times during nursing school when I just wanted to quit because I was tired of being so stressed. I'm really grateful for my support system, who pushed me to keep going.
---