Walmart Fulfillment Operations Manager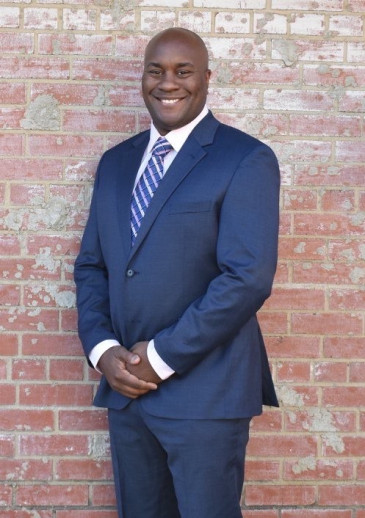 Growing up in Lansing, I dreamed about being a professional football player. I was all-state for Lansing High School and was the 1998 track and field state champ in the long jump. Even after I became a father my senior year in high school, I held on to that dream, enrolling at the University of Kansas on a track and football scholarship.
But soon reality set in, and I couldn't keep up. Until you have a kid, no one understands how expensive they are. Between work, school, weight training and practices, I couldn't keep up, and I flunked out after my sophomore year.
In December 2001, I enlisted in the Marines, and found myself in San Diego, California, for bootcamp. I worked in supply and logistics, or what in the civilian world is called supply chain. Later, I spent three years in Overland Park on special duty as a canvassing recruiter working with high school students and other young adults. That job gave me a lot of insights as to how people can take skills learned in the Marines back into the private sector.
After that posting, I went back into operational forces out of Camp Lejeune, North Carolina. We deployed to Afghanistan to support Operation Enduring Freedom for the second time, where I was responsible for all the financial aspects of shipping and receiving equipment overseas.
At this point, I had sole custody of my daughter, Alexis, and so being deployed was very hard. I had to depend a lot on family members during this time. I am a very involved dad, serving as my daughter's travel softball coach from childhood through high school, and I really missed being there for her practices and games. My daughter would go on to be a collegiate softball player.
In December 2013, I got out of the Marines after serving for 12 years. I'd been injured, and my body just couldn't take it anymore. I was very proud of my service, but it was time to take the skills I'd learned and apply them elsewhere. I took my first civilian job as the operations manager with Northern Tool Distribution Center near Charlotte, North Carolina.
I also decided to give college another try. I earned a bachelor's degree and then a master's degree in business through University of Phoenix, and I am currently pursuing a doctorate in Six Sigma through Liberty University. I found college was much easier the second time around. In the Marines, I'd learned to study hard, because in our professional military development, anything less than 80% was failing. (The Marines have a higher standard than college!)
I was recruited back to the Kansas City area to run a new fulfillment center for Walmart near Gardner, the largest of the seven such centers Walmart has in the U.S. Now, as director of operations, I facilitate all online order fulfillment, making sure orders get out of our center in a timely manner.
If you're interested in supply chain management, I'd encourage you to focus on your math skills. I was terrified of those classes as a kid, but as I grew older, I embraced them. Also, any experience you can get with managing and leading people will be useful in this industry. I've spent a lot of time in my life as a leader and coach, and those experiences pay off for me every day.   
---