Farmer/Rancher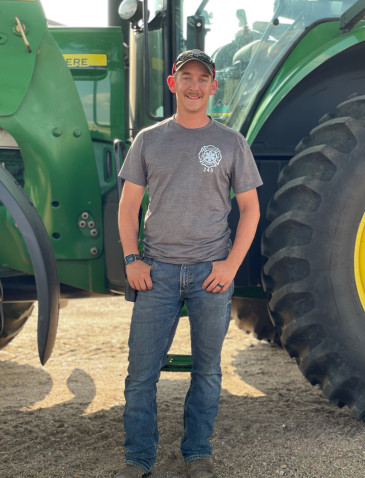 "I've always loved every aspect of the farming profession, even as a young kid. Living in the country, taking care of animals, taking care of the land … I knew it was what I wanted to do. My dad was a farmer and rancher, and I wanted to be just like him.
I am currently the owner and operator at Sand Creek Ranch, where I've started my own farming and cattle operations. During winter, I spend my time feeding and caring for cattle, watching carefully over them during their calving season in February and March and maintaining our farm equipment. During the spring months we keep up with the cattle and plant our spring crops. Summer is our busiest time, when I spend most days from early morning to late in the evening in the fields putting up hay, harvesting crops and keeping the ground weed-free and prepped for the next crop.
I love working outdoors in the beautiful Kansas countryside. I enjoy taking care of my cattle and horses and spending time with them. I also really like being my own boss, in charge of my own career. My goal is to continue growing my operation, and to eventually take over my dad's farm someday when he decides to downsize or is unable to continue farming.
I started learning about ag in high school. I took as many agriculture and tech classes as I could, knowing they'd be helpful in the future. I took welding, small engine and shop classes, as well as animal science, agricultural economics and agricultural business. I also took an entrepreneur class that was very helpful in learning the aspects of running a business. 
I knew I would return to the farm life eventually, but I wasn't done learning yet. I enrolled at Hutchinson Community College and took classes in animal science, farm and ranch management, soil science, plant science and more. I had plans to go on to Kansas State University for a bachelor's degree, but after my first year, my dad's full-time farmhand quit and he needed help right away. I decided to move home and start working on the farm. 
The other part of my training (arguably the most important part) came from working with my dad. To do the job I do today, I use a combination of the new training I received at college and what I learned from him. 
To anyone interested in a job in agriculture, I highly recommend they give it a chance. It's a job that gives back to the community in the form of feeding the world, and it's perfect for those who love the outdoors. It's time-consuming and involves a lot of hard work, but it's extremely rewarding in the long run."
---