Equipment Technician III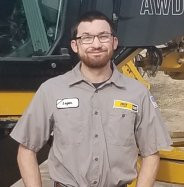 I've always enjoyed working with my hands. Growing up on our family farm, I worked on tractors, trucks, pickups and other kinds of machinery. But it never dawned on me that I could use my interests to pursue a career.
Then one day, a friend told me about Foley Equipment's ThinkBIG program. He said it was a great opportunity and explained the perks like paid on-the-job training and the opportunity to earn an associate degree. I was immediately interested, so I reached out to a recruiter at Foley who helped me get the ball rolling.
I finished the program and have been working at Foley ever since. Today, I'm an equipment technician III. I work on a range of equipment from skid steers to scrapers — basically from the very smallest stuff to the largest machines. I really enjoy facing different challenges each day and feeling the satisfaction that comes from finishing a job correctly. The feeling of fixing equipment and getting it back to a customer in working order is amazing. I take a lot of pride in my work and that sense of accomplishment.
Right now, I'm not really looking towards a managerial position because I want to stay on the shop floor. I'm most interested in becoming a better technician and helping others around me do the same. All of my career goals are focused on betterment.
If you're interested in this field, I'd suggest taking ag welding classes, shop classes and mechanics courses if they're available. Anything you can do to start learning the tricks of the trade are going to help you get a feel for the industry.
And most importantly, just go after it! It's the seemingly simple things that matter the most: Try your best. Work hard. Show enthusiasm. All of those qualities go a long way.
---